The Venetian art of glassmaking boasts origins dating back thousands of years, and even today there are many companies that deal with it, resulting in unique handcrafted products of incomparable beauty. The series of Murano glass glasses handcrafted and colored with the addition of various types of Murrine as well as gold and silver leaflets are some examples of what can be purchased at our workshop specializing in just such art.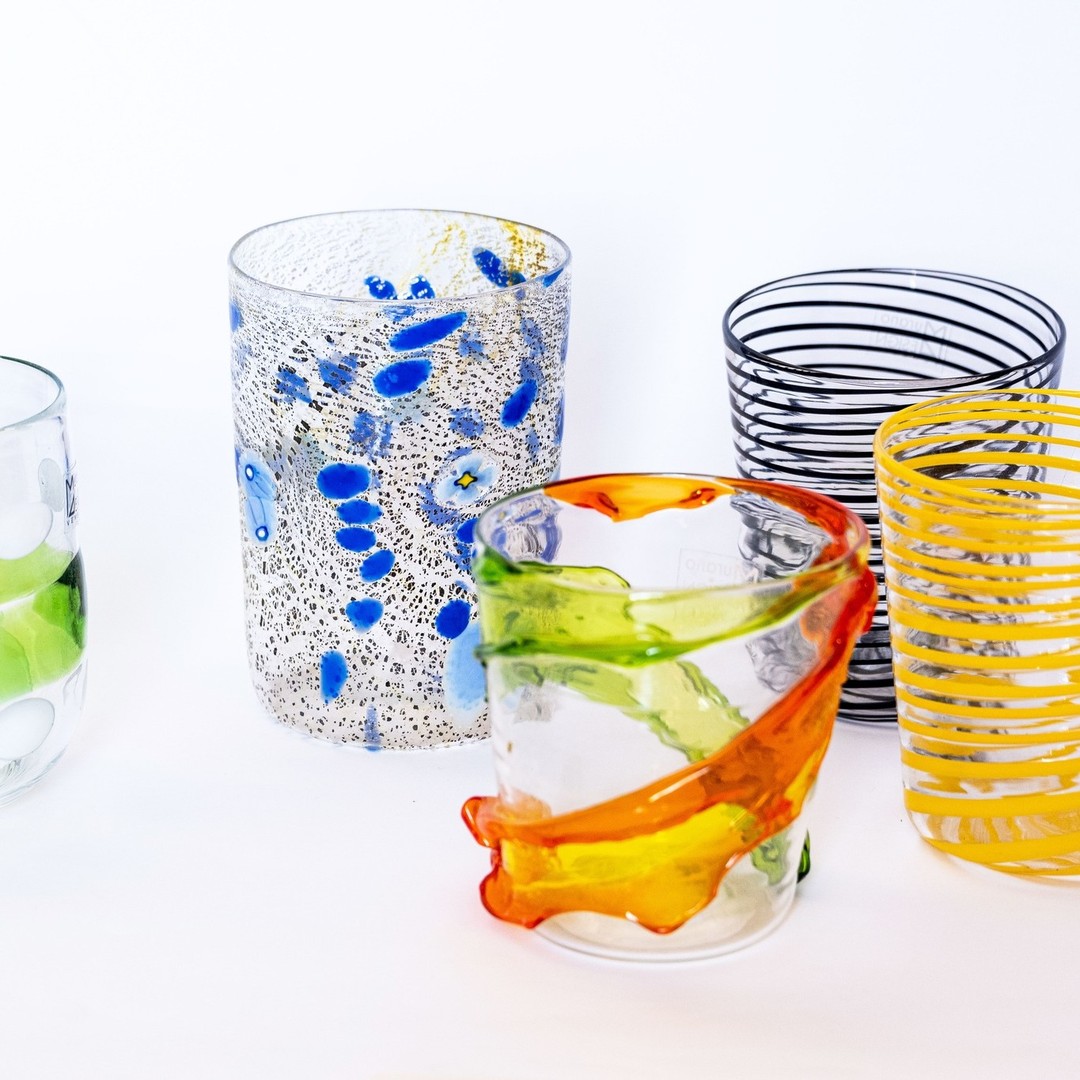 The Murrine glass technique: how is it made?
Murrine are decorations found in Murano glass artifacts; in fact, you can notice them on vases, tableware, frames and glasses, for example. Murrine once ready after a distinct working process, are then to be heated and applied while still hot on vases, glasses or other handcrafted artifacts giving in the end a work of art that is known all over the world. That being said, with reference precisely to glasses with Murrine, below we list five models in our showroom that prove to be unique, striking and among the most popular.
Our glasses with Murrine
The first model is presented as a handcrafted open tumbler decorated with Gold Leaf and opaque Murrine. The item by the way is available both plain and crumpled and boasts a height of 7, 10 and 12 centimeters. Of the same type and to complete the set, there is also the option of purchasing a 25-centimeter high carafe.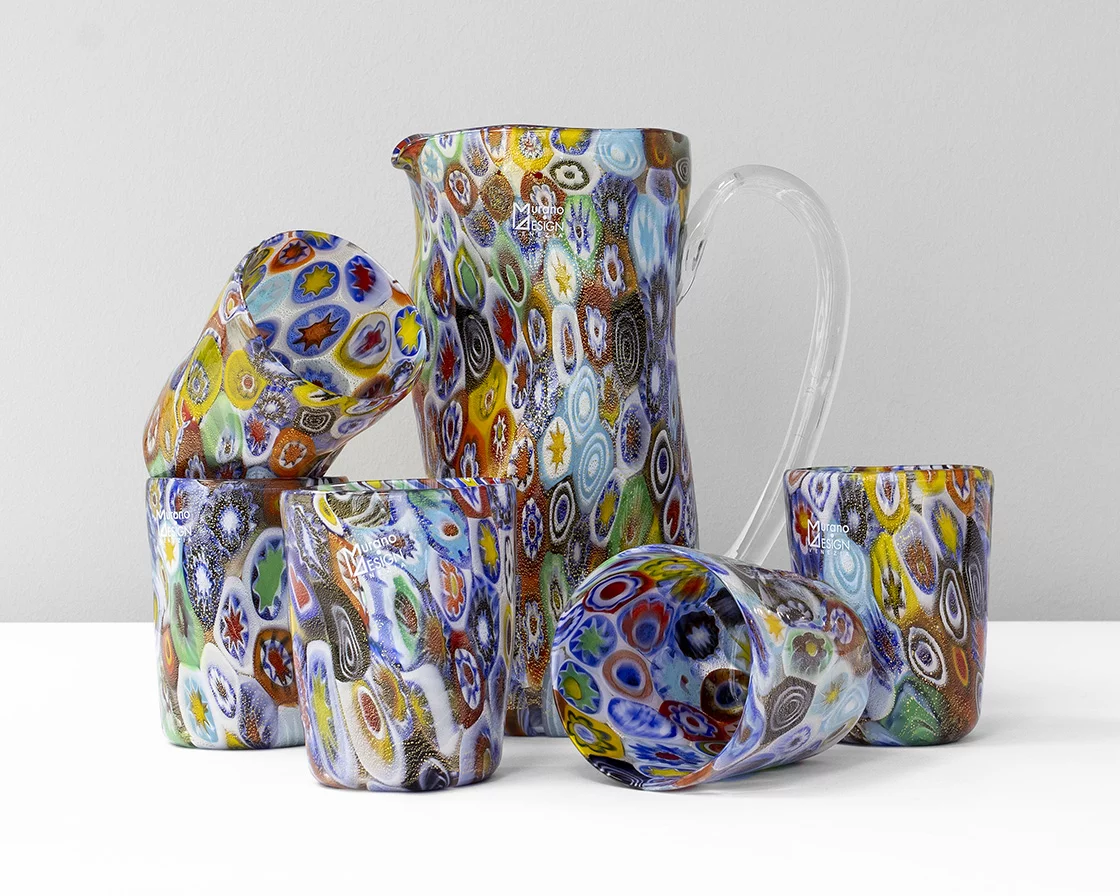 The second model worth mentioning for its irrefutable beauty is the one made from so-called Murrine Canes. Specifically, these are again open Murrina glasses that are handcrafted and are finished with opaque or transparent canes and with the addition of other classic Murrine. As for the colors, however, there are no standard ones but others that the master glassmaker chooses from time to time and according to his imagination. Among other things, the glasses in question boast a height of 10 centimeters, while the carafe with the same mixed cane and Murrine decorations is 23 centimeters.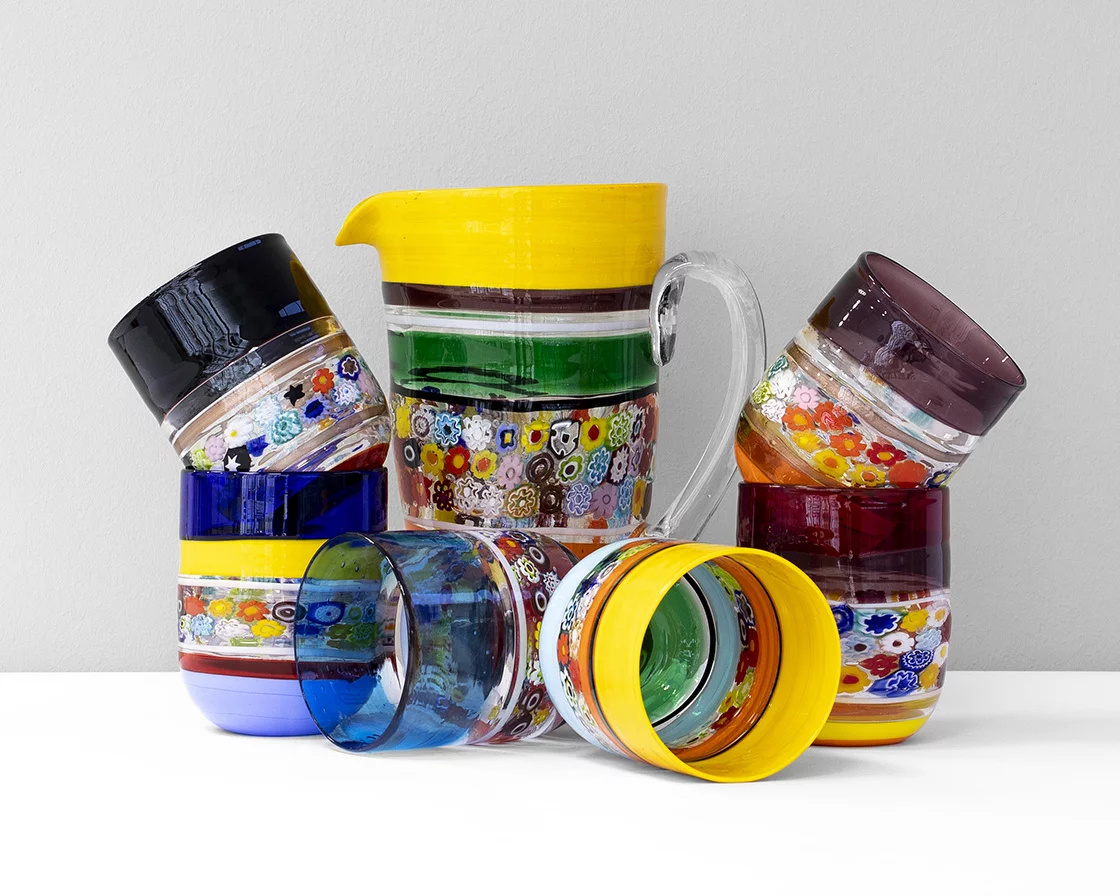 The third model of glass produced by expert master artisans specializing in Murano glassmaking is the one called Botticella, which features opaque Murrine scattered in leopard spots and glass threads inside. The coloring, on the other hand, varies and can be chosen from white, yellow, blue, green, orange, red and light blue, as well as amethyst and black shades. The height of this glass is 11 centimeters, while the carafe with equal decoration boasts a height of 25 centimeters. The fourth tumbler model that is among the most popular in the range finished with Murrine is the one that is open and decorated with the so-called Murrine Band that has a matte finish. Also there is the possibility of ordering it either with silver leaf or without, as well as crumpled or smooth. Finally, the height is 10 and 12 centimeters, while the carafe with the same decoration goes up to 23 centimeters.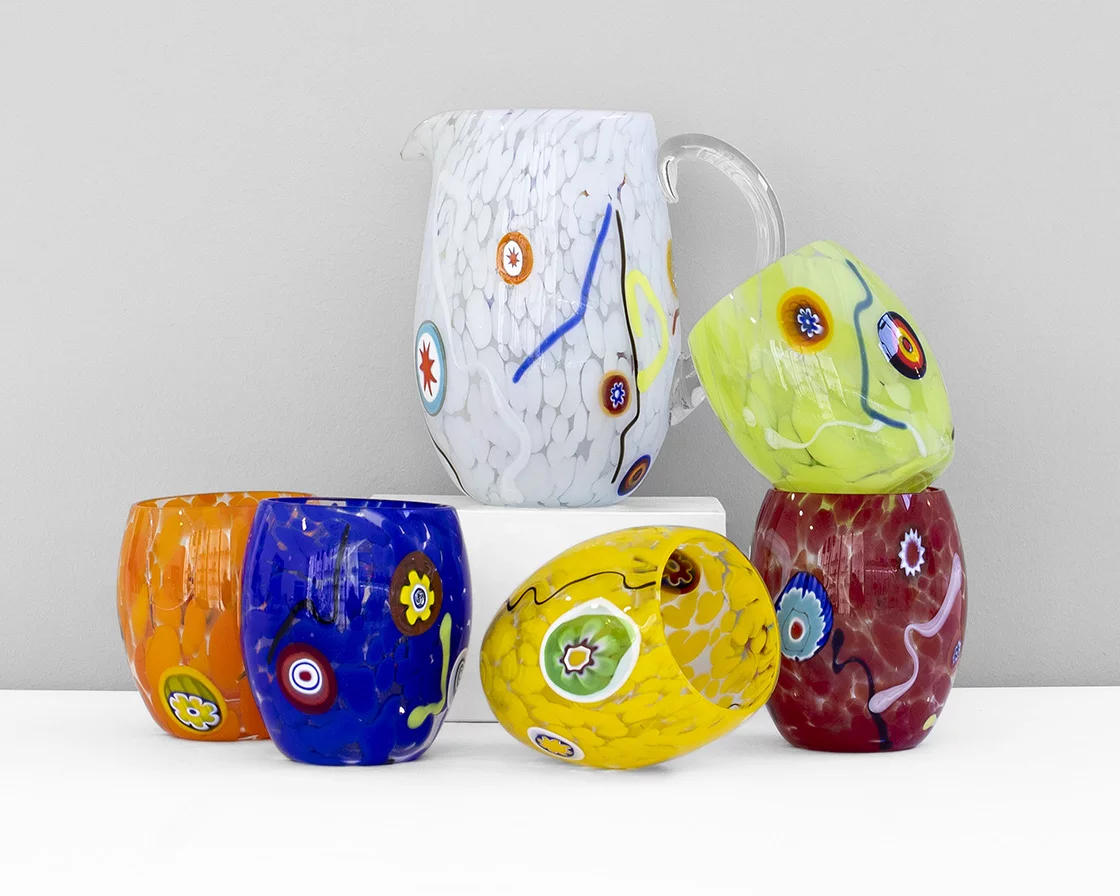 To conclude this quick roundup of the most striking models of Murano glass and Murrine-decorated glasses, we mention the Mille Fiori. Specifically, this is an open specimen that is also categorically handcrafted and has a mix of transparent Murrine as its decoration, which is why it has been given the aforementioned designation. Finally, it should be added that this model is available both crumpled and smooth in sizes of 7, 10 and 12 centimeters while the carafe boasts a height of 25 centimeters.
How to recognize original Murano glass?
When you decide to buy artifacts made from Murano glass, you rightly wonder how you can recognize real ones from imitations. A first clue in this regard can be provided precisely by the geographical area; in fact, it is a raw material that is produced only on the island of the same name in the Venetian lagoon. Another focal point that can let you know if it is an original Murano glass concerns some very distinct characteristics of the product, namely very intense colors and especially the irregular shape it presents. The latter in itself testifies to how it is an artisanal and not a mass production, so each individual artifact will never be the same as another. At this point, it is worth exploring this topic further, so below we provide you with additional tips on how to recognize with certainty that the product you are buying was actually made from Murano glass.
The other useful tips for recognizing original Murano glass
In addition to the structural characteristics previously described, Murano glass also provides other irrefutable evidence that it is original. To name a few, first and foremost it should be mentioned that the color in addition to being intense and having a certain thickness, it also boasts a mix of gold and silver grains as well as different shades.
This decoration comes from the fact that when Murano artisans make their glass objects such as glasses, they use various types of minerals to color them. Moreover, as the mass of glass tends to heat up, these particles melt giving rise to unique and precisely intense colors, such as cobalt blue or red, although there are some models that come in an eye-catching green hue similar to that of oxidized iron or on the pink side.
Secondly, another clue that can reveal with certainty that Murano glasses with Murrine, a carafe or any other handmade product is original, is that concerning the additional decorations that our masters choose from time to time for the various artifacts.
To give a few examples, depending on their imagination they usually opt for thin gold or silver leaves and that they add to the hot glass mass in order to create fascinating sparkles. If what has just been listed is not enough to establish the originality of an artifact made by the master craftsmen of Murano, another factor can always be carefully checked. In fact, authentic objects should appear irregularly shaped, with small imperfections and different sizes.
The same applies to the polish, which may appear uniform in places or partially dulled.
This result is the logical consequence of the fact that expert masters of Murano glassmaking, create their artifacts exclusively by hand and by resorting to the ancient technique of blowing. Thanks to this, glasses, jugs, frames, paintings and many other objects will actually appear imperfect, different from one another and thus be able to provide irrefutable evidence that they are original artifacts.