Artistic glassmaking was born historically in Venice and only later was production moved to the island of Murano, thus beginning the long tradition we know today. In fact, the production of colored Murano glassware is carried on in our historic furnaces by master craftsmen, who continue to follow traditional techniques handed down through generations.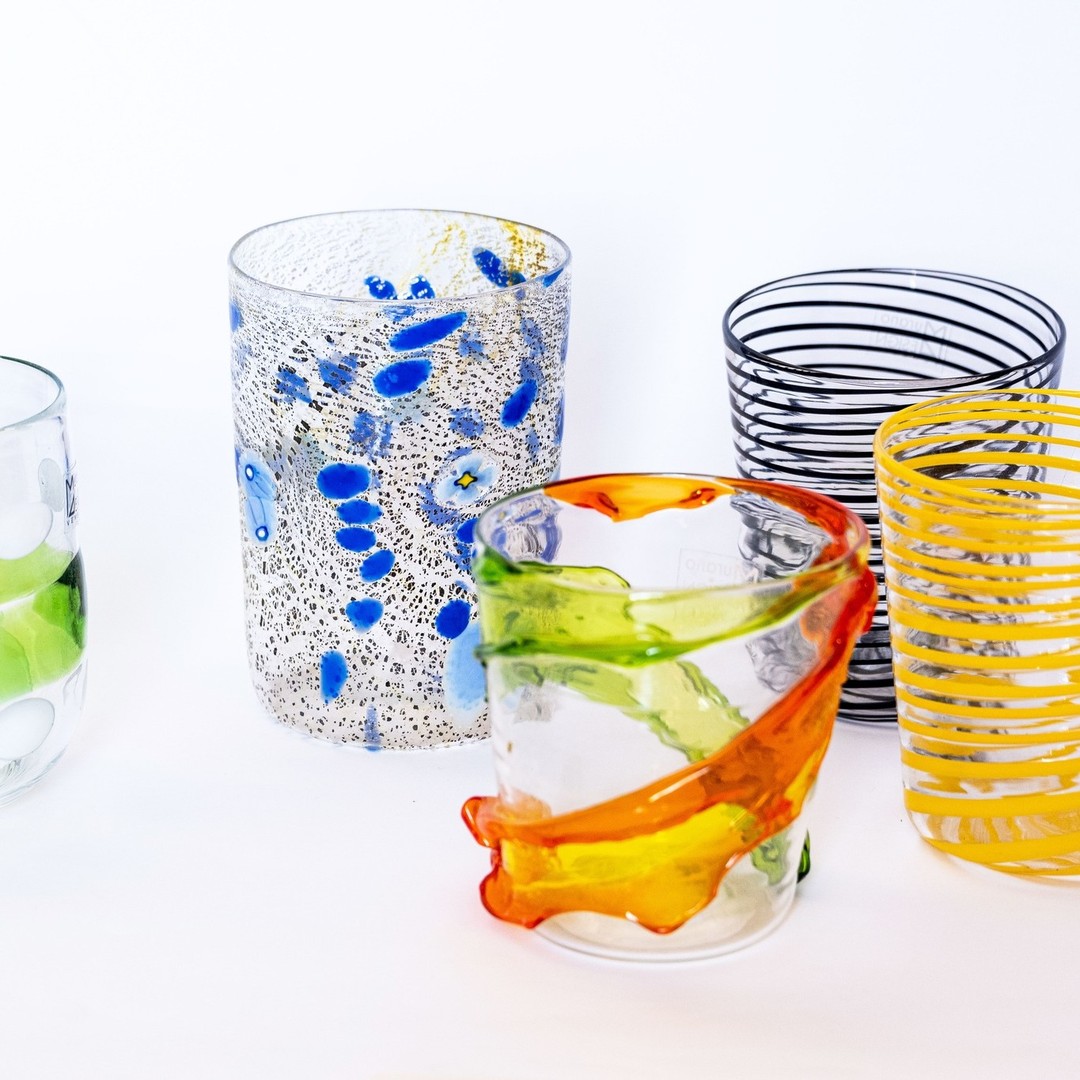 Be enchanted by the colorful Murano glass tumblers
The creations of our company called Vetreria Murano Design, with their high quality, still provide an excellent opportunity for decorating the world's most elegant homes. Collectible glasses and goblets from the Venetian tradition have been wonderful and elegant decorative objects and focal points of the most luxurious mansions for centuries, while refined glass centerpieces, blown sculptures and table lamps are priceless creations that we produce to decorate bedrooms, living rooms or any other room in the house.
So if you choose Murano glass colored glassware services, they will surely become a precious detail to surprise your guests at every dinner party. Classic or modern, each can decorate any space, adding elegance and luxurious touch to any style of decor. Decorated glasses from our Vetreria Murano Design are made using classic historical glassblowing techniques and by skilled masters who have passed down this art for generations. There are a variety of colored Venetian glasses for you to choose from; in fact, on our website at: https://vetreriamuranodesign.com/en/bicchieri/ in addition to those of the classic round shape, you will have the opportunity to find them in goblet shape and perhaps matching them with carafes with the same decorations and shades.
However, the work of our master craftsmen in Murano is not limited to the models just described, so you will also be able to opt for particular patterns of glasses by choosing them from the murrine, gold leaf and filigree types, and even various shapes such as the spiral one. Finally, you should know that upon request you will also have the option of having colorful tumblers custom made for your family and to showcase at some event or for a very luxurious and exclusive gala.
Why choose stained glass glasses from the company Vetreria Murano Design?
If you are wondering why our various types of Murano glass tumblers are worth choosing, the answer is short and comprehensive; in fact, at a wedding, these works of art will be exclusive wedding gifts to surprise both groom and bride. With their originality and quality, our artifacts are also suitable as corporate gift ideas for clients and suppliers of your business.
The excellence and value of these blown glass products will therefore surely make a difference in any case. Murano glass handcrafted in our company after all means uniqueness and exclusivity, as no item is completely the same as any other. The characteristic production of Murano glass colored glasses allows us, among other things, to create custom-made and carefully designed works of art in order to meet the wishes and needs of customers under the banner of certified quality.
To give a few examples you will have a choice of hand-opened glass with opaque canes and available in colors and patterns carefully chosen by the master craftsman. The 10 cm. tall glasses that we have distinguished with the Serenissima designation are also great for collecting since they have internal bubbles and are embellished with gold leaf. Finally, you should also know that on our site you will also have the opportunity to buy opaque reeded vases having a height oscillating between 25 and 30 cm, as well as the hand-opened tumbler also with opaque reeds available in various colors and patterns and 10 centimeters high.
The role of blown glass in home design
Typical Murano glassblowing certainly plays an important role in home design: its traditional charm really makes any creation the best choice for decorating your home, enhancing its uniqueness. For example, the classic glasses we make can even be placed in bathrooms to enhance the atmosphere and make it undeniably more elegant.
Glass goblets are also the best choice for your kitchen or dining room that could perhaps be wonderfully decorated with other typical Venetian artifacts. The variety of styles makes our colorful glasses really easy to find to fit your kitchen. Wonderful hand-blown decorative bowls and incredible glass plates are other typical Murano items we produce that are easily placed in this room to make it absolutely unique.
Fine glassware sets can also add a touch of elegance to your dining room: classic and flute glass patterns will indeed brighten up the table and amaze your guests. Centerpieces, for their part, are a good option: the artistic tradition of Murano glass that we curate has in this regard a wide variety of objects that you can draw on to further personalize and optimize your home design.
Create an exclusive set for your table
Elegant handcrafted glass bowls and plates along with colorful glasses represent the tradition of Murano, which really offers you a wide range of differently styled objects that can easily match the colors and design of any room. The elegance of the famous animal figures that Vetreria Murano Design produces will also surely add a nice and traditional touch to your dining room making it unique and very striking.